Yakimanskii Arrest House
Address: 15 Kazanskii Lane, Moscow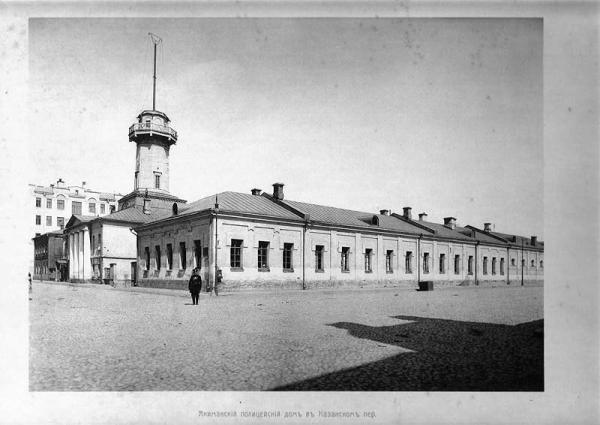 Yakimanskii Police Station. The Arrest House is the two-story brick house on the left. Photo: PastVu
The Yakimanskii Arrest House was located in a two-story building in a police house estate on the corner of Zhitnaya Street and Kazanskii Lane. The approximate capacity of the arrest house was 60 people; the maximum capacity was one-third more (95 persons).
The administration of arrest houses, which was responsible for organizing activities for prisoners, created an initiative to open a mop manufacturing center in the Yakimanskii Arrest House.
In 1924, the arrest house was reorganized into an arrest house for juvenile delinquents. In a year's time, from October 1923, 1,061 prisoners passed through the house. It is not certain whether they were minors. 
By October 1926, the arrest house was closed, but the house continued to function as a medical unit and as police station no. 5.