City Arrest House
Address: 10 Krivoi Lane, Zaryadye, Moscow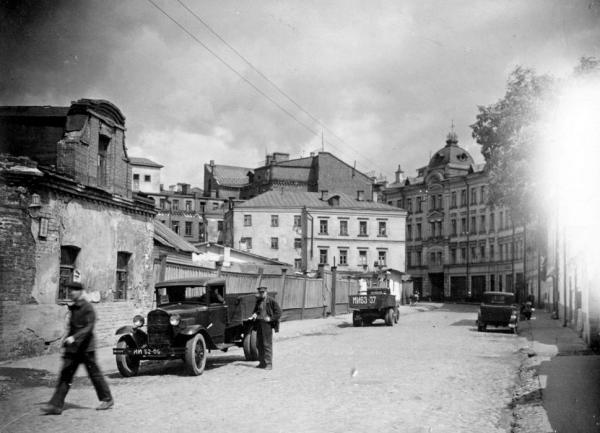 Krivoi Lane in 1940–1941. The City Arrest House was presumably located in the three- and four-story buildings on the left. Photo: PastVu
The City Arrest House was located in three buildings on Krivoi Lane near Varvarka in 1917. By the end of the 1940s, it had ceased to function. It was designed as a temporary site of imprisonment for remand prisoners and those sentenced to imprisonment or to concentration camps. Prisoners were not supposed to spend more than two weeks there before the arrest warrant came into force. Afterwards, they were transferred to the final places of imprisonment according to their sentences.
According to documents from December 1919, the City Arrest House was built for 250 people. From October 1923 until October 1924, some 6,500 people passed through it.
Prisoners were not sent out to do external work. In 1920, there were plans to open workshops in Moscow's arrest houses. A shoemaking workshop and the repair of valenkis (traditional felt boots) were supposed to be established in Arbatskii and Sushchevskii; the manufacture of mops was planned for the Yakimanskii, Myasnitskii, and Basmannyi arrest houses; envelope manufacturing was organized in Lefortovo; and a tailor's workshop and an envelope manufacturing center were supposed to be organized in the City Arrest House.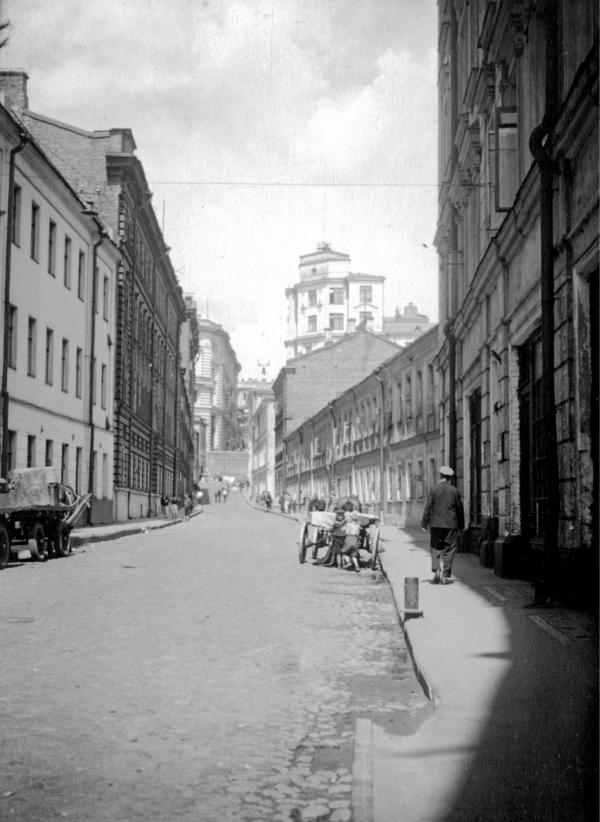 Krivoi Lane, view from house No. 7. The arrest house is presumably the white three-story building on the right. Photo: PastVu
The City Arrest House was transformed into a temporary site of imprisonment in 1924. After its closure in 1925–1926, the envelope workshop in house no. 10 continued its work for some time. Other activities did not exist after the end of the 1920s.